Staff
Steve Brong, MS – Founding Partner, President & CEO, Family Worker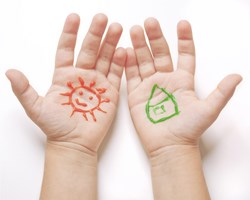 Steve began his venture in social services while attending graduate school at Shippensburg State College pursuing his Master's degree in counseling. He holds more than 40 years of experience working in the areas of drug and alcohol, mental health, as well as providing directorship of several children and youth organizations. Steve has dedicated his career to helping adults, children and families in managing stress and crisis by guiding them to stability.
As a founding partner of Lehigh Valley Families Together, Inc., Steve continues his commitment to children and families through his everyday work. "Just as the original concept of helping parents build a family that will be stable, emotionally and physically safe continues to guide my efforts, my direct involvement with clients as a family worker and team leader shapes my decisions as the chief administrator of LVFT. There is no question in my mind that continuing to provide direct services helps me stay in touch with the needs of our families and the counties we serve and has made me a more effective administrator."
Allyn Benech, M.Ed. – Founding Partner, Vice President, Program Director
Starting out to be a business manager, Allyn decided towards the end of her undergraduate work that the counseling field was the direction she was headed. Graduating with a bachelor's degree in Business Management and subsequently a Master of Education in Rehabilitation Counseling from Penn State, she now sees her life took her down the perfect path because she uses both of her degrees in her current position.
Allyn has held several positions in the area of social services from mental health and intellectual disabilities services to working with children in foster care and seniors in a nursing home setting. Her experiences brought her together with President Steve Brong to create Lehigh Valley Families Together.
Throughout her work, Allyn has learned that every person has a story that deserves to be heard and honored, and there is hope even in the direst of circumstances. Allyn holds true to a saying her father would tell her, "Everything happens for a reason." She works to help clients see beyond their immediate struggles to what may lie ahead.
In addition to holding the positions of Vice President and Program Director, Allyn is also certified in Family Group Decision Making and Family Development Credentialing. She enjoys spending time with her sons, dog and cat and when she's not reading a good book you may be able to talk her into taking a sky dive!
Laura Gross – Office Manager
Laura has been working 17 years as Lehigh Valley Families Together's office manager. Laura holds substantial management experience prior to joining LVFT and holds a degree in Computer Programming. Throughout her years with LVFT, Laura is inspired to see families who have so much going against them become success stories.
She enjoys spending time with her family and friends. Loves to laugh!
She believes you need to "enjoy the little things because one day you will look back and realize they were the big things!"
Laura is a longtime volunteer and loves to be outdoors especially on a beach somewhere.
Jenna Valentino - Family Worker
Jenna graduated from Lock Haven University with a bachelor's degree in Criminal Justice with a minor in Psychology.
In the past, she has worked at the Allentown Leadership Academy working with children in grades 5-7 teaching academic and social interaction with one another. Jenna decided to join the staff at LVFT so that she can be part of something bigger and strive to help others in any way possible.
Jenna has previously volunteered at the YMCA and participated in local highway clean-ups. She enjoys painting, drawing, crafting and exploring new places while hiking. Jenna is inspired by making a difference and seeing change in others around her in the process.
The quote that she lives by "There's a day when you realize that you're not just a survivor, you're a warrior."
Stephanie Dressler - Foster Care Recruiter/Trainer
Stephanie has wanted to work in the foster care field since attending college. This is her first job in the social services. Previously before LVFT, she worked at KidsPeace as a Mental Health Technician II. Stephanie also worked as an Associate Teacher in a Life Skills Classroom at an elementary school for about 2 years.
Stephanie received her associate degree in Social Work from Northampton Community College, and a bachelor's degree in Social Work from Kutztown University.
Since starting at LVFT, Stephanie has been inspired by all her co-workers who have come from all types of backgrounds and work experiences. She feels her prior experience has prepared her for this new career opportunity.
Stephanie had a Community Learning/Service paper published during her time at NCCC. She also presented at a research conference on The Importance of Program Evaluation for a Healthy Relationship workshop during her senior year at Kutztown.
She enjoys hosting parties. When she wants to unwind, she cleans. Stephanie is inspired by great people who believe in making a difference, have each other's best interest in mind, and who use humor as a stress relief and a way to connect with others.
Her quote to live by: In order to get on the road to success you have to get in the car and start the engine!
Crystal Otero- Family Worker
Crystal graduated from Northampton Community College with an associate degree in criminal justice in 2018. She studied peaceful and conflict resolutions abroad in Costa Rica during her time at NCC. Crystal started working as a teacher's assistant at Lightbridge Academy where she learned the joy of working with children and their uniqueness in different learning environments. In 2020, she became a Community Life Coordinator for Phoebe Ministries nursing home. At the height of COVID, she dedicated her time to providing activity engagement, companionship, and support to the residents and their families. Crystal graduated from Purdue University Global in May 2022 with a bachelor's degree in criminal justice. She also volunteers as a crisis counselor for Crisis Text Line supporting people manage their life struggles. For a short period, she worked for the Northampton County Department of Corrections as a processing technician assisting with fingerprinting and booking arrestees and inmates. LVFT stood out to me as a better fit because of its mission to support families and children to achieve their goals and strengthen their relationships.
Crystal enjoys meeting new people and making people laugh, and can be quite silly in certain environments. In her spare time, she likes to clean, organize, tend to her plants, and spend time with her family. She enjoys being outdoors when the weather is nice especially on the beach in the summer. Something quirky about her is that she's not big on desserts! Her favorite quote is "I dream of things that never were and ask why not?"